The Marvellous Spectacle at Mudumalai Wildlife Sanctuary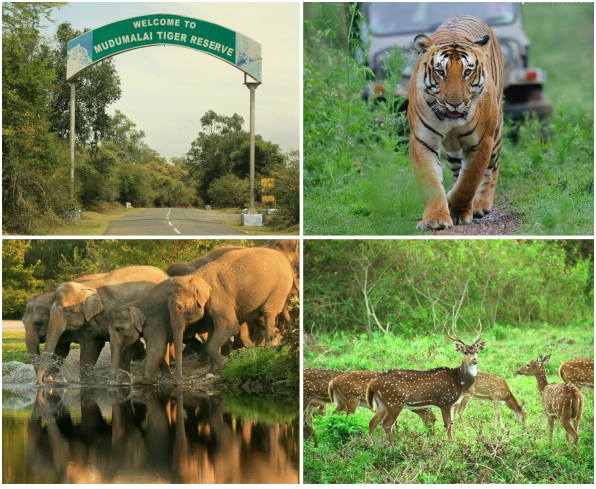 The Mudumalai which literally translates to old hills is a marvelous place to visit if you wish to connect with nature. The wildlife sanctuary in the hills of Mudumalai has a variety of wild species which offers the visitors a spectacle of a lifetime. Mudumalai is located in the state of Tamil Nadu which is one of the tourist capital states of India. It is nearly 150km North West of Coimbatore city in Kongu Nadu region of Tamil Nadu. The Mudumalai wildlife sanctuary falls on the border of Kerala, Karnataka, and Tamil Nadu sharing the sanctuary.
The Mudumalai wildlife sanctuary has been a tourist hotspot for many foreign and domestic tourists. This magic of nature is spread across 3,300 sq km of forest along with wildlife flora and fauna alike. The Mudumalai wildlife sanctuary is home to over 2000 elephants and some rare breed of tigers, birds, and reptiles. The whole sanctuary is protected by the forest officers working round the clock protecting the animals from humans and vice versa. If you are looking to visit the Mudumalai wildlife sanctuary then here is some background check of this amazing place.
History
The Mudumalai wildlife sanctuary is also known as the Mudumalai Tiger reserve. This is because of the 48 Tigers that are allowed to roam free in this sanctuary. The Mudumalai tiger reserve was declared as a Tiger reserve to protect the population of Tigers under section 38V wildlife protection act of 1972. After the act was passed, the 350 families living in the area were evicted but the people living in the buffer regions were given employment as trackers and guides to enhance their incomes through ecotourism.
Flora
This forest spread across 3,300 sq km has a variety of tropical plants. The lands of Mudumalai is said to resemble paradise. The Mudumalai forest is covered with three types of forest where the western Benne block is covered with tropical moist deciduous forest, middle and southern part of the forest is covered with tropical dry deciduous forest, and the eastern part is covered with tropical dry thorn forest. Apart from that, there are many patches of tropical semi-evergreen forest in the western and south-west part of Mudumalai. Hence the Mudumalai wildlife is blessed with tropical flora varieties.
Wildlife
The wildlife in the Mudumalai region which is home to several endangered species of animals and birds is protected by government forest officials. The Mudumalai is home to elephants, Tigers, Bengal Tiger, Gaur, and Indian Leopard. It has a diversity of wildlife in the sanctuary nesting over 50 species of fishes, 21 species of Amphibians, 34 species of reptiles, 55 species of mammals, and 227 species of birds. As a matter of fact, almost 8% of bird species in India can be found at Mudumalai wildlife sanctuary. So this place is a bird lover's paradise.

The Mudumalai sanctuary is a worth visiting place in Tamil Nadu. If you are travelling on your own or may have booked your tour packages with Tamil Nadu Routes then make sure that you visit the Mudumalai wildlife sanctuary. This place is visited by several tourists every year where they enjoy activities such as safaris, bird watching, waterfall visits, village tours, etc. There are also many resorts and accommodation facilities near Mudumalai wildlife sanctuary that can make your trip more pleasant.

Read also:

Taking Photos During Your Travels: What You Should Be Ready For

Tags: Flora, Mudumalai, Mudumalai wildlife, Tamil Nadu Routes, Wildlife