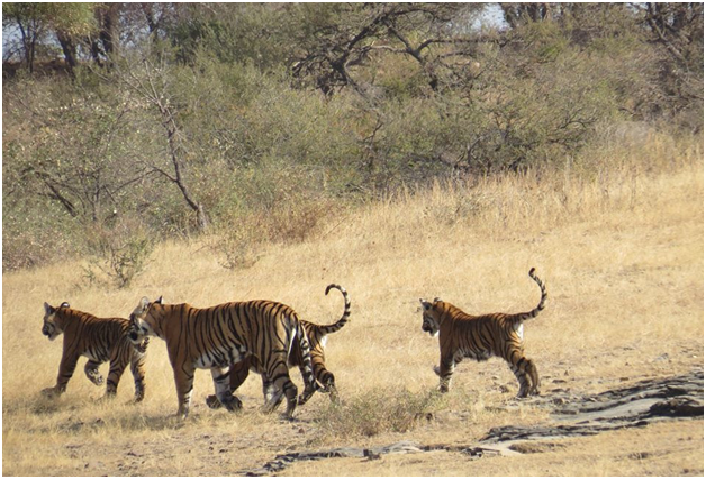 Travel Guide for Ranthambore Tiger safari
India is a country that claims various wildlife species and organisms and is known in the world for its rich wildlife treasure. Apart from pets, India has a surprisingly wide spectrum of original animals. It is home to Royal Bengal tigers, Leopards, Asiatic Lions, various species of Deer, including Chital, Sambar, Barasingha and many more amongst others.
There are several wildlife national parks in the country which constitute half of the world's tiger population. Now it is sad to know that In India, the tigers have decreased by a decade ago from one million to 1700. Tigers are known to be very elusive animals. We should thank the Indian National Park System which allows
the common people to explore the wildlife in natural habitat through the jungle safari tour. If you feel that your desire to see the tiger cannot be completed,then you can visit Ranthambore National Park surrounded by Aravali and vindhya mountain hills.
An introduction to Ranthambore National Park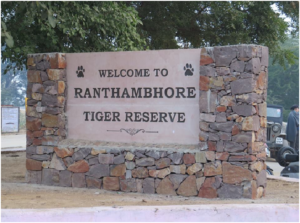 Ranthambore is one of the fortieth largest national parks in northern India. It was founded in 1955 as Sawai Madhopur Game Sanctuary by Government of India. And in 1973 it was declared one of the Project Tiger Reserve of the country and was declared as Ranthambhore National Park in 1980. In the year 1984, forests near Ranthambore National Park were declared as Sawai Man Singh Sanctuary and Kaldevi sanctuary, and Tiger Reserve was expanded to include Sawai Man Singh and Kaldevi Sanctuary in 1991. Ranthambore national park is known for its Bengal Tiger and Ranthambore is one of the best places to see these wild animals in India in the natural forest habitat. Ranthambore is such a wonderful place in India where the dream of spotting tiger comes true. Tigers can be easily seen in the daytime during the jungle safari in Ranthambore National Park. Ranthambore Tiger Reserve is surrounded by Aravali and vindhya mountain range, which offer a natural beauty for tourists. Indeed, Ranthambore is one of the famous wildlife destinations in India which offer wonderful wildlife safari experience to see rare wild animals in its natural jungle habitat. The best time to visit Ranthambore National Park is from November to April, because it is easy to see the big cat during this season.
Although in the months of May and June, tiger settings are at its peak but it also has to face the scorching heat. That is why most tourists are in the winter season.
Tiger Safari and our expectation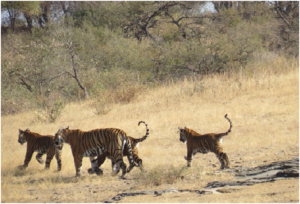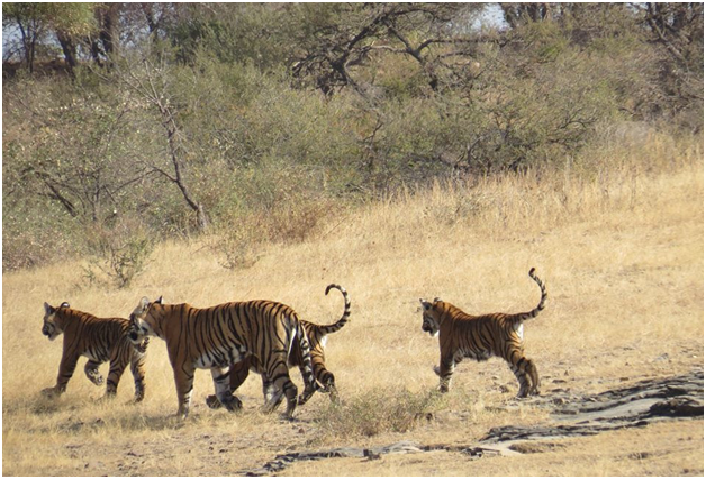 As you are aware that Ranthambore Tiger reserve has dried deciduous forests areas and this is the reason that there is more chance of seeing the tiger here compared to other wildlife sanctuaries in the country. You can see the royal tigers peacefully in the dry deciduous forests of Ranthambore, Ranthambore is known for its growing population of tigers in the world. At present there are about 67 tiger-tigresses including cubs. And the best option to see these tigers in their forest habitat is Jungle Safari trip in Ranthambore National Park. Jangle
safari can be enjoyed from two types of Safari vehicles at Ranthambhore. Jeep and canter are run by the forest department to explore wildlife in the forests of Ranthambore. Every day you can visit the park in the morning and afternoon shift. There are limited safaris vehicles allow by the Forest department in each shift. Tiger sighting in Ranthambore wildlife sanctuary is depends on luck and matter of chance. During the jungle safari, you can explore the India's national animal's natural habitat. In Ranthambore, Tiger Safari is a witness to
all the wildlife tour lovers all over the world.
Ranthambore online safari Tips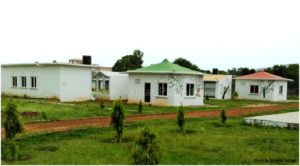 There are 10 different safari zones have been created by the Forest Department to visit the park in Ranthambore tiger reserve. Every tourism safari zone has Tiger territory in Ranthambore. The safari zone is allocated by the forest department. We can choose the preferred zone 90 days prior from the Safari date under the online safari booking. 90 days ago, after the Safari booking started, the preferred zones remain subject to availability. All Safari zones in Ranthambore are beautiful and charming. Online safari booking in Ranthambore is best way to confirm your jungle safari in advance. If you are going to Ranthambore National Park to enjoy Tiger Safari, then make sure you have booked everything well in advance including Jungle safari and hotels etc. Pre-booking of Tiger Safari in Ranthambore will give you a unique experience and nature guide will be with you during jungle safari which is a good interest in nature. Besides the Tiger,During Ranthambore Tiger Safari you will be able to enjoy spotting other wild animals such as spotted deer, Sambar deer , monkeys , Blue Bull, Chinkara ,Sloth bear , hyena , Leopard etc.