Visit Fiji on a Budget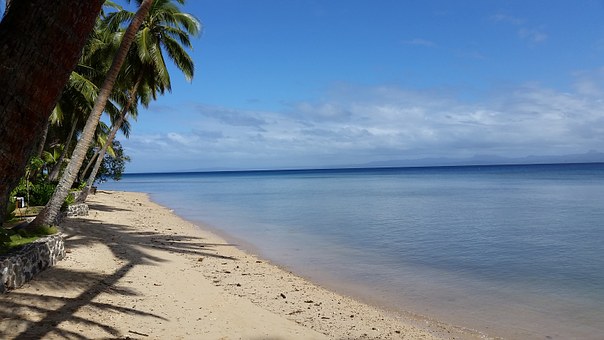 Fiji is considered by many to be a paradise destination. A country consisting of 322 islands in the South Pacific Ocean many of them uninhabited needs little introduction.
With the distance and time it takes for people to get to Fiji it carries the stigma of an expensive trip that would put many over budget.
Granted Fiji does have some of the best hotels and resorts in the world that entertain the rich and famous, accompanied by high-end golf courses and the like but there is also plenty at the opposite end of the scale to enjoy.
This will serve as a rough guide to help show you how to plan your dream holiday on a budget. I have visited there four times and have made a point of trying different things each time. I'll show you my budget plan which encompasses backpackers or anyone who's just on a tight budget.
Is Fiji Really Expensive?
Fiji is not a country that lends itself to last minutes bargain flights especially if you reside in Australia or New Zealand, last minute flight deals are plentiful around the world but not so much for Fiji, the last gasp, hastily planned trips here don't come on the cheap. Ensure you plan and book this part of your journey well in advance.
If the budget is tight, don't try and cram in too many islands. It's a classic mistake, pick and choose the islands and enjoy the time you spend where you go. There are tour operators onshore that do special deals for island hopping adventures, this may sound a little brash but everywhere here is a beautiful Fijian experience, so take it easy, you'll get the Fijian experience without feeling rushed and needing to see everything and end up enjoying little.
If you are wanting to go island hopping you will find some of the islands you won't be able to go onshore as there will be a landing fee charged, this charge can be per person not per boat, however, I did get to stop off on Plantation Island Resort. This is for the more upmarket traveler, but as a backpacker, you can comfortably spend the day there. Our boat captain was thrilled to inform us that the island has a 'supermarket' – The things we take for granted in the west, puts a few things in perspective.
One of the more nostalgic stops was Robinson Crusoe Island, for those of you not familiar, this was where Tom Hank's movie Castaway was filmed, I did look for 'Wilson', but he was no-where to be found. And the famed 'Honeymoon Island' which bears its name for that exact reason, picturesque is a word that doesn't come close to describing it.
Map of Fiji
IF you are familiar with travelling the Philippines, itself home to over 7600 islands you'll know that they may look in close proximity to each other but maps can be deceiving, be sure to plan the route in advance and speak with your guide to determine the time frames of where you are headed.
Flights to Fiji
One way of flying without a heavy cost is if you are including Fiji as part of a round-the-world ticket and using it as a stop-over; however, I know this will not apply to many of you. The way I got to Fiji is from Australia with a flight to Nadi (the main international airport) from Melbourne taking less than 5 hours. You'll find various small local airport scattered throughout the island, but you'll be flying into Nadi first. Fiji Airways or one of the low-cost Australian carriers Jetstar will be your best bet price-wise.
As with all low-cost carriers be careful with excess luggage fees, I always say to myself 'you are not on a survival programme you don't need this, or this, definitely not that' and so on, travel light and save on the add-ons. A round trip throughout the year should generally cost less than AUD$1000 for an adult.
What Islands should I Visit in Fiji?
Mamanuca and Yasawa are two different regions, but keep in mind what I mentioned before – You don't need to see them all – And some of the island hopping boat charters can be expensive so you can choose and organise your own 'island hopping experience' I did, and it went well.
Transporation
Not just in Fiji but anywhere you travel prior planning avoids nasty, expensive surprises. Let's say you have 4 to 5 days of budget travelling ahead Mana Island is a good place to start as it's a good springboard to visit other islands.
Boats for hire are aplenty. It's as smooth as the old saying of 'rocking up at the docks' and you can find a boat, or you can easily organise one in advance. If you are having a drink at a bar and mention it the barman/maid they will know a boat owner, everyone does. The average cost for a trip to and from Mana Island in USD is around $75 the equivalent to 150 FJ$ (Fijian Dollar) give or take a few per cent for currency fluctuation the FJD hangs around 2-to-1 to the USD.
What Budget Accommodation is Available in Fiji
There really is something for everyone throughout the islands, from the high-end tourist 5-star hotels, resorts and golf courses to the polar opposite end of the scale Hostels starting from around USD$8 per night on the island. They can go as low as USD$4-5 on the mainland in Nadi, (although Nadi is not really where you want to be hence the price!) there are plenty of options if you surf the internet.
Nadi
The reason I mentioned the price of a hostel here is purely for flight-related reasons if you need to spend the night there after arrival or waiting on departure, but the goal is to get to the islands.
If you do have to stay there's an excellent little hangout called Smugglers Cove Backpackers, prices are usually no more than USD$5-6. Clean, has good Wi-FI, decent cheap food and arrange an airport pick-up with entertainment, so worth checking it out if you need a stay-over for the day/night.
Mana Island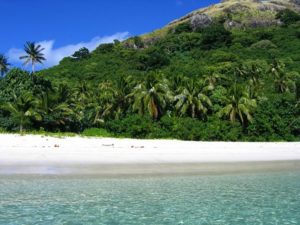 Mana is around 3 hours from Nadi, I would recommend you put it on your itinerary, another picturesque place (as all the islands are) geared towards backpackers with just two hostels in the village.
Azure blue water and white sand, what more could you want, plus the snorkelling experience here is top drawer.
Expect to pay more for the hostel but no more than USD$20.
I stayed at Ratu Kini Dive Resort who as it would suggest offer PADI instructed diving lessons.
We were picked up in a mini-bus to the port and onto the boat to the island. When we arrived, we were greeted with the traditional 'Bula' and Lei, this is the traditional flower wreath of the Islanders.
On offer here are meal deals anywhere from $10-$15 for lunch and dinner all or you can just choose your own items from the menu, but the food is excellent and always fresh. You'll find 'meal deals 'everywhere you go, some better value than others so make sure you weigh things up before committing.
One of the highlights was organised by the hostel, a chance to make Kava, Kava is Fijian alcohol made from seeds on the islands, it's undoubtedly an acquired taste but was fun helping to make it.
Beachcomber Island
Beachcomber is a party island where backpackers and travelers of all description meet and greet and basically get drunk and have a good time. However, more pricey. You can find accommodation as low as USD$12 but depending on the season, try to book in advance. If you cheaper accommodation than this, you may well find the 'food-plan' is expensive. I have seen anything up to USD$40 per person for a 3-meal-a-day plan at the cheaper places, so choose wisely.
Basic Necessities when you Arrive
You can pick up a Sim card at the airport. I got 1GB of the internet for USD$5 when I arrived for my smartphone, and it was the smart thing to do. Wi-Fi isn't covered on all the islands, but it's worth the money.
Money
Try to plan your itinerary and budget before you set off island hopping, understand many of the islands do not have ATM machines, and so get your finances ready in Nadi.
What to Wear
In the tourist spots there's nothing to concern yourself with, but if you are blending in with the locals away from the beach, they cover up a little more so bear that in mind.
The Kava treatment
At some stage, you'll get this for sure. It's a local ceremonial tradition. You won't get away with it even in the hostels, you accept the drink by clapping three times and drink it all, then clap again to show appreciation. I must say it's not the best tasting drink, but it's an experience in itself.
Travel Insurance
At your discretion, I found the whole experience one of the least likely travel experiences to get any physical injury I have ever been on, but of course, you can't account for illness.
Conclusion
Fiji may be off the beaten track as far as geo-location is concerned, but do not let that put you off this wonderful experience and remember you don't need to surround yourself with backpackers or travelers the locals will invite you in like a long-lost relative. It can be an expensive trip, but it doesn't need to be.

Read Also:

Tags: Beachcomber Island, Fiji, Flights to Fiji, Mana Island, Map of Fiji, Nadi