Azzurra Yacht Charter In The Balearic Islands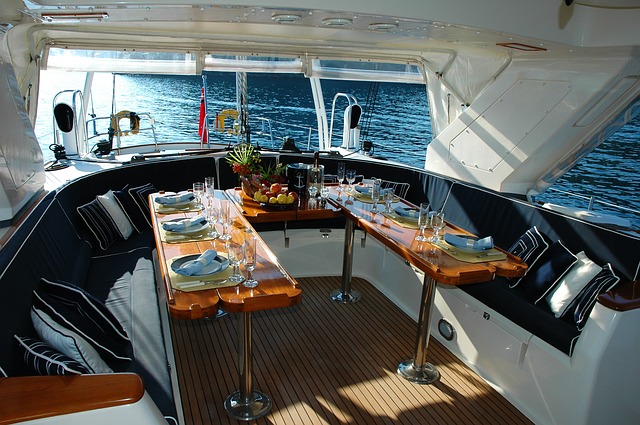 The stunning Balearic Islands have long been a holiday haven for holidaymakers. Situated in the Mediterranean Sea, each of the 4 main islands making up this enticing archipelago offer glorious beaches, succulent seafood and nightlife made famous by the legendary Balearic Beat.
A holiday to remember:
Those looking for a holiday to remember will go a long way to find a better choice of destination, and anyone wishing to add an unforgettable experience oozing style should take full advantage of an Azzurra yacht charter. This wonderful water experience is guaranteed to linger long in the memory.
If an excuse is required!
Special occasions deserve special arrangements. If you are looking to celebrate any of the following in true style, then chartering from Azzurra Charters.is the perfect way to go. For more information please see their Facebook Page.
A day afloat on the beautiful Mediterranean waters is ideal for:
Birthday celebrations
Wedding anniversaries
Hen or Stag parties
Special occasions
Select promotional events
But, just as good an excuse to arrange a charter is because you, your family, loved ones or friends really do deserve it!
Holidays are meant to bring relaxation, enjoyment and fun. An Azzurra yacht charter combines these 3 essentials to perfection.
The Balearic Islands:
Before we get into detail of what a luxurious Azzurra yacht charter has to offer, here is a brief overview of the 4 islands that make up the Balearic's. Each has its own individual character with delights and surprises aplenty.
Mallorca: Ancient villages, glorious, inspiring churches and sedate monasteries intermingle with stunning sandy beaches that are lapped by the warm, inviting Mediterranean Sea.
Menorca: Those searching for peace and tranquility will surely appreciate the nature, seaside and countryside ambience Menorca affords. If relaxation and re-charging your batteries is a priority then this charming island fits the bill.
Ibiza: Many quite rightly associate Ibiza with world-class nightlife, first-class restaurants and beautiful beaches, but this vibrant island has far more to offer. A prime example being its UNESCO-listed Old Town which offers visitors a memorable experience and is arguably one of the most picturesque places Spain has to offer.
Formentera: Lesser known and less frequently visited than the other 3 islands, Formentera is a haven of relaxation. It offers sheltered coves and secluded beaches set in natural beauty. To reinforce this, one only needs understand that Formentera includes a 10,000-hectare UNESCO-listed maritime natural park covering land and sea.
The Azzurra yacht charter experience:
To set the scene, let's take a look at the yacht itself:
This superb craft is Italian built by the world-renowned luxury boat building company Baia. The Azzurra 63 model is their flagship yacht and is so designed to maximise speed while ensuring complete passenger safety and comfort.
In terms of the luxurious specification the yacht is 63' (19.5 m) in length, is beautifully fitted throughout with 3 air-conditioned cabins all with en-suite bathrooms. This luxury vessel is licensed for 12 people, has a cruising speed of 30 knots and a very impressive, exhilarating top speed of 50 knots.
Larger parties of friends and guests can comfortably be accommodated through our rib chartering service. As you will gather, we can cater for any size of party for your perfect day out.
While day charters are extremely popular, it should be remembered that longer, flexible-route charters are also enjoyed by many parties. One look inside the superbly fitted cabins will tell you why our extended charters are a very appealing option.
Exclusive mooring:
We at Azzurra yacht charters strongly believe that only the best mooring facilities will suffice for a yacht in this class. To this end we have permanent mooring in Mallorca's exclusive Portals Nous marina. The first-class facilities on offer are only to be admired.
It also means that Azzurra is in the perfect location for exploring the nearby crystal-clear waters and affords ease of access when venturing further afield for day trips to Ibiza and Formentera.
Delicious on-board catering:
While an important part of any Azzurra yacht charter is to include a stop at a favourite restaurant of your choice, or one suggested by our captain, we understand the need to provide onboard catering while aboard the yacht.
Mouth-watering dishes and a wide variety of drinks can be served by our friendly, experienced hostesses while you and your party relax and enjoy the enviable ambiance of our charter experience.
Experience counts for everything:
Apart from the superb performance, features, speed and comfort our charters offer, you will be pleased to know that our captain and crew have lived on the islands for over 30 years and bring with them an astonishing level of sailing experience in these beautiful waters.
You tell us what type of trip you want and it is yours! A stop in secluded bays, a pause on a remote beach, lunch at a trendy waterside restaurant or drinks courtesy of a hip beach bar. There are options to suit every occasion and every type of party.
Exhilarating water toys are all part of the package!
It is only natural that younger members of your party (or the young at heart!) may wish to take advantage of some of the latest water toys available.
Thanks to the constantly developing innovation of superyacht toys and accessories your party will have the chance to experience adrenalin-fuelled fun.
Here is a brief description of some of the most popular toys we offer, and as long as requested in advance, others can be sourced for your day out through our professional watersport's partners in Mallorca and Ibiza.
The Seabob F5 S:
This is the ultimate high-performance craft. It's handling properties are excellent with a driving performance second to none. Every charter is equipped with our very own Seabob F5 S meaning hours of fun and water-frolics are yours to enjoy.
Williams Jet Tender:
Offers performance unlike any other inflatable boat. Precise handling coupled with agile performance means ease of access to shores in remote bays that others can only view from afar.
The Zapata Flyboard:
Any would-be superhero's wishing to 'fly' above the waves will be eager to use the Zapata Flyboard. This is the perfect toy for anyone looking to hover, twist and turn above the sparkling sea below. What is even better; it is perfect for novices and experienced riders alike. This is an additional hire, but once notified we can arrange on your behalf.
Jobe Ringo:
Our inflatable rings will take you on an unforgettable ride. All you need to do is hang on tight and savour an unforgettable skim across the azure waters. Make sure one of your party is ready to video your dashing journey!
Come and join us:
A holiday in the Balearics offers an extremely enjoyable and relaxing time. To cap it off a Day boat charter Mallorca is the perfect experience, one that will be talked about long after it is over.

Tags: Day boat charter Mallorca