10 Best Water Parks In The World You Must Visit!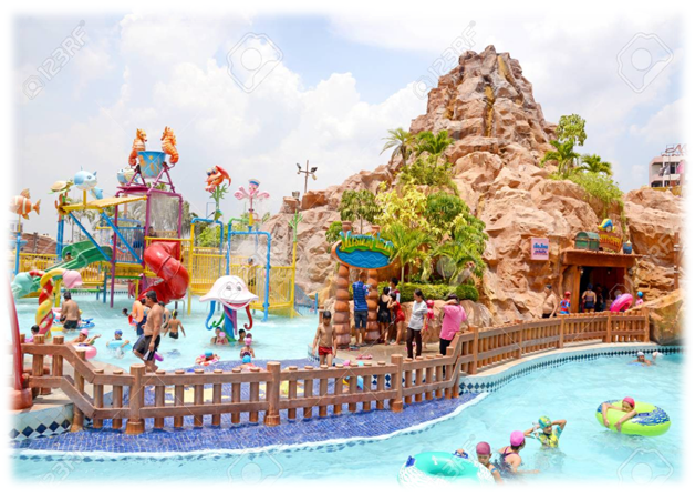 Lucky we are that we live in a world that offers so many adventure activities that a lifetime seems too short to enjoy them all. A water park is one place where you can get some of the best adventure activities. There are exhilarating roller coaster rides.There are thrilling watersides. And there are underwater diving experiences. All these activities make water parks worth a visit:
Here we are going to list some of the best water parks in the world where you can get the best experience of your life:
1. Siam Park, Spain
Located at Costa Adeje in Tenerife, Siam Park is considered among the best water parks in the world. The 91 feet high "Tower of Power" is the highlight of this park. Divers use this point to dive through a passage of sharks and stingrays.
Siam Park is credited with some of the marvels of engineering and it also holds many records including the highest man-made wave which is eleven feet long.
2. World Waterpark, Alberta, Canada
One of the notable tourist attractions in Canada, World Water park  is the second largest indoor water park in the world. Spread over a sprawling area,it houses three large pools, seventeen slides, and the world's largest shopping complex.
Twister and Cyclone are the two highest slides in the park that will make you feel butterflies in the stomach. It is not for the fainthearted and people with the spine can truly take pleasure of this slide.
3. Universal's Volcano Bay, Florida
A new entry in the world's best water parks, Universal's Volcano Bay deserves a mention in this list for its wonderful water pools and slides. It is built around a 200-feet tall man-made volcano which is known as "Krakatau". It has three capsule slides which you can use to plunge into the water.
Universal's Volcano Bay is also famous for its eateries. Among its popular eateries, Kohola Reef is the main attraction for the visitors as it offers the most delicious veggie burger.
4. Beach Park, Brazil
Situated on the Atlantic Ocean, Beach Park is the largest water park in Latin America. It has everything that makes it a perfect place for a family excursion. Whether it is the crystal-clear pools,thrilling rapids or the delectable foods, everything in this park is worth a try.
However, the main attraction of this Beach Park is its tallest water slide that measures135 feet in height and runs at a speed of 65 miles per hour.
5. Water Cube Water Park, China
If you are roaming around Beijing National Stadium, you can't miss a visit to this water park. Water Cube Water Park was part of 2008 Summer Olympics. It underwent extensive renovation to accommodate more people and was opened in August 2010 for the general public.Today, it offers plenty of adventure activities for people and it offers facilities like wave pool, water slides, spa, and rides.
The AquaLoop is the highlight of this water park which is a cuboid-shaped slide that plunges the rider into a big bowl. The site is set to be the part of 2022 Olympics event.
6. Aquatica, Florida, USA
This is a the med water park that is built on the mascots of the Australian region. The water park is famous for its Dolphin Plunge that is a name of two tube slides that go through the habitat of Commerson's dolphin.And there is Taumata Racer that is another slide you can ride to activate your adrenaline hormones.
The white sand beach of this park is also the attention of many visitors and it has a big garden that is decorated with more than sixty thousands of plants.
7. Waterbom Bali, Indonesia
Spread over a vast area of 3.8 hectares of land, Waterbom Baliis known for its greenery that surrounds the main area of this park. This facility provides you with a list of things to keep you filled with fun and joy. It has more than seventeen water slides and water sports that you can play to boost your adrenaline hormones.
It also features a vertical slide that pushes you with a gravitational force of forty miles per hour. Besides, it offers other many exciting activities for the family and kids to enjoy their stay in this park including water cannon, water slide, and jet.
8. Disney's Typhoon Lagoon, USA
Disney's Typhoon Lagoon is one of the world's most popular water parks that host thousands of visitors every year. It is located in the heart of Walt Disney World Resort near Lake Buena Vista. It is known for the world's largest outdoor wave pools where people can indulge in joyful surfing rides.
What is praiseworthy about this place is the children's play area where the kids can have the best time. In addition, the resort has an exclusive area for families where they can find refuge under shades as well as get the best facilities for their tour.
9. Aquaventure, UAE
Aquaventure is a paradise for people who want to retire under an oasis. It is situated in the neighborhoods of Palm Jumeira Island where you can please yourself in a fantastic weather and a soothing environment.
The Leap of Faith is the claim to fame of this wonderful resort that is built like an enclosed tube that passes through a shark-filled pool of water. It is a real treat for daredevils who want to do some adventure.Besides, the visitors can relish delightful moments on the resort's private beach where they can engage in plenty of water sports.
10. Makadi Water World, Egypt
Makadi Water World is a renowned water resort that is surrounded by Makadi Bay.It has everything that you can expect in a world-class resort facility including fifty different slides you can go on a ride.The incredible 19 meters tall slide is the major attraction of this place.

There is also a river area where visitors can lie back on a sun lounger and immerse themselves into the pleasant weather.The good news is that you can get free snacks and drinks during your stay in this park. What more you can ask for!

The aforementioned are some of the best retreats you can revel in during your holidays. Hope you find them interesting enough to make your next holiday spot.

Read also:

Tags: Aquaventure, Best Water Parks, Disney's, Makadi, Universal's, Water Cube, Waterbom