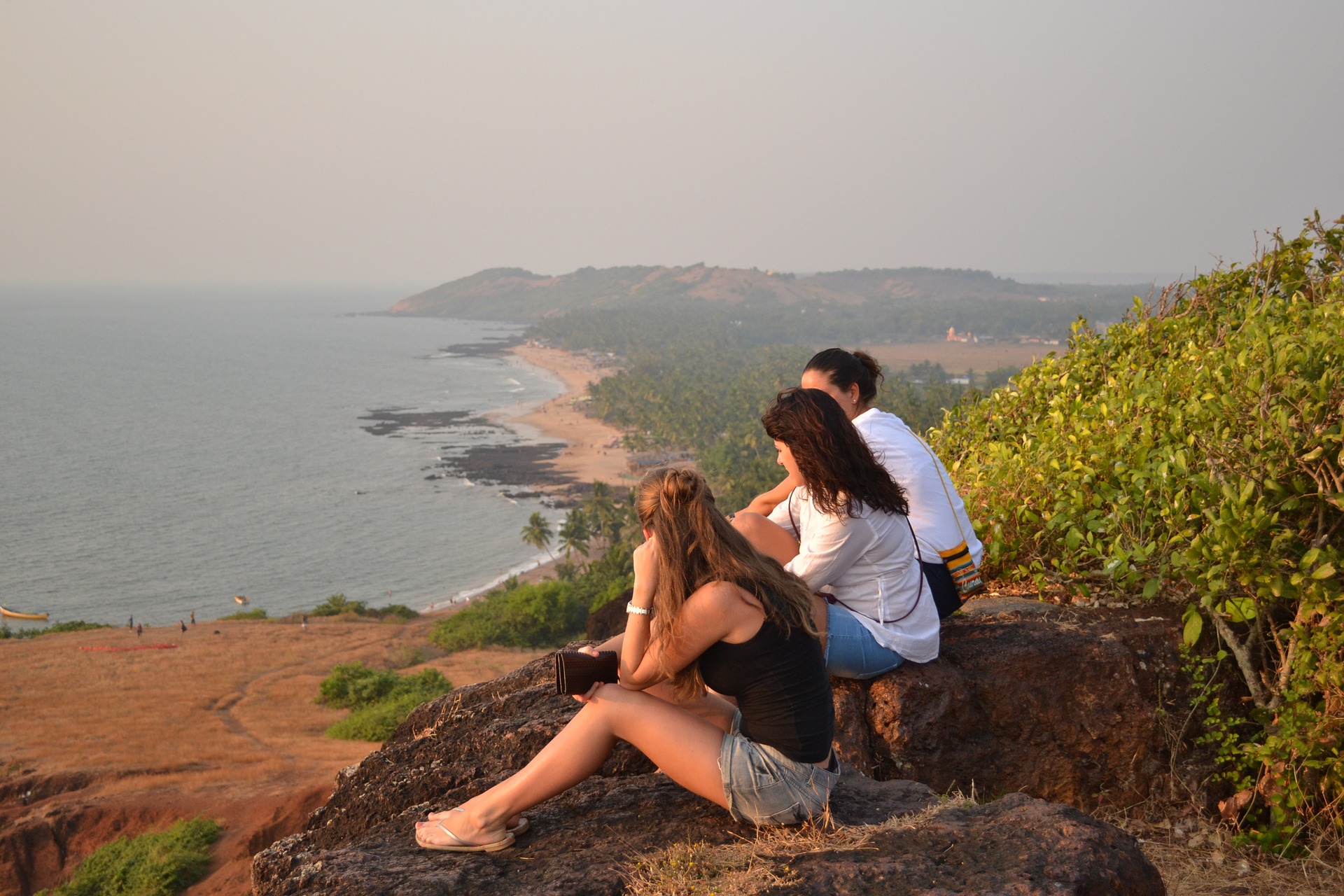 10 Best Places To Travel Alone In India
Traveling is the best food you can feed your soul. The boring routine of life can only be broken by traveling to rejuvenate and experience the mysteries of nature to learn something new. Traveling in a group or with friends and family can give us the best way to connect with them and make memories. But sometimes taking a vacation on your own is important to connect with yourself and enjoy the solitude.
Also, it gives you the freedom to do things and visit any place that becomes a little impossible while going with a group. There is a different charm of going on solo trip and India with its diverse culture and nature has so many places lines up for a solo traveler to explore.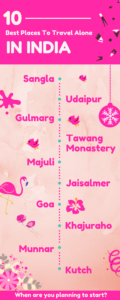 Here are 10 Best places to travel alone in India
1. Sangla
In the Baspa valley of Kinnaur district of Himachal Pradesh, resides Sangla at an altitude of 2500-3000 meters. It is an off the beaten track villages where you can find serenity within the forested slopes and mountains. Sangla with its orchards, apricot, cedar trees and culture of Kinnauri people is one of the best getaways for a solo trip.
Chitkul, Rakcham, Batseri, Themgarang, Kamru, and Sapni, are some of the nearby villages which can be visited either on foot or by trekking.
2. Udaipur
Want to spend a relaxing evening by the lake or enjoy the hospitality of a luxury resort, then you must plan a solo trip to Udaipur. Known as the Lake City, this place has so much to offer from the fort, palaces, temples, and lake and resorts nearby it, with all of them depicting the beautiful and colorful history and culture of Rajasthan.
3. Gulmarg
If you love adventure sports, then Gulmarg (Kashmir) should be at the top of your bucket list. At an elevation of 2690, this is one of the best ski destinations in the world and a favorite place for backpackers from around the world. During the summer season other adventures like camping, hiking or golfing makes for a leisure yet adrenalin filled traveling experience for a solo explorer who can easily find like-minded people amongst so many thrill-seekers.
4. Tawang Monastery
In Arunachal Pradesh's north-eastern Himalayan region is the beautiful Twang-Monastery. The snowy mountains, Lakes, and streams that surround it are just gorgeous and have a sense of calm that you won't find anywhere. Since it provides a lot of camping and hiking opportunities, thus it's a favorite destination for backpackers from around the world.
Also, the unique culture of Mona people will leave you awestruck too.
5. Majuli
The largest river island in the world is in Assam and is known as Majuli. Majuli is located in the Brahmaputra River, and is house to endangered avifauna species. Also, many migratory birds make this their home in the winter season. The different culture of the tribal folk that resides here and its biodiversity will surely attract you and you will have fun at this solo trip.
6. Jaisalmer
One of the most exotic locations of India, Jaisalmer has so much to offer to a solo traveler. From exploring forts and ruins of Kuldhara village to camping in the Thar desert, you can do so much here on your own. Also, the sand dunes in the dessert make for a calm camping night watching the night sky and enjoying the rides on camel.
You must plan a visit in February as which is the time of Jaisalmer Desert festival, to enjoy the culture of this historic city.
7. Goa
From rave parties to pubs, all night bonfires, beaches and casinos and delicious food; Goa is a haven for a solo traveler who would find so much to do here, that he/she can't ever get bored. Their some private beaches and spa that are unexplored and less crowded for the quiet traveler. But if love thrill, then for you, Goa has some of the best activities like snorkeling, surfing, jet skiing, scuba diving and parasailing etc. you will never have a dull moment here.
8. Khajuraho
If you are a history buff, you need to explore the temples of Khajuraho which is on the list of UNESCO World Heritage Sites in India. The temples here have beautiful sculptures and other architectural details that provide great insight about the rich culture of Chandella rule. Coming here would not just make you appreciate the architectural details of our forefathers but also enjoy the peace and calm that is found in these temples.
9. Munnar
This is the best place to go hiking for a nomad who loves going on trips alone. Munnar is located in Kerala near the Western Ghats at an altitude of 1700 meters and is surrounded by flora and fauna. Nature and lover's favorite destination is Munnar due to it housing some of the most endemic and threatened species of plants and animals.
10. Kutch
This magical place in Gujarat has so many places to explore from wildlife to historical sites and pilgrimage spots. Surrounded by seawater, many backpackers comes here to camp and enjoy the many activities offered in the Rann of Kutch festival.
So friends, these are some amazing Indian places you must pay visit to. Would love to hear your experiences in the comments below.