Top Five Markets To Shop In Rajasthan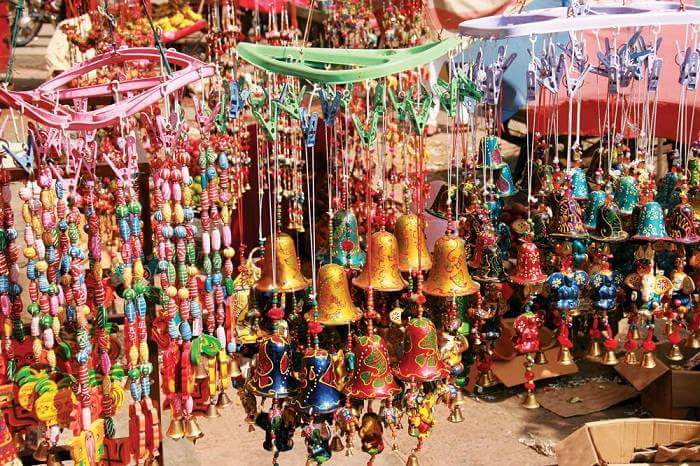 Shopping is an important exotic activity in Rajasthan. Given the unique style of living because of the exotic environment, this is one of the best places in India to buy interesting souvenirs. This is the best place to buy items like dry spices, silver articles, leather goods, home décor items and so on.
There are numerous markets in most of the cities in Rajasthan. This article talks in detail about five top markets that you ought to visit in Rajasthan.
1. Johari Bazaar
This market region is located in Jaipur. This place is famous for jewelry, ornaments and décor items. You can find many colorful souvenirs here. The jewelry is not just gold. You can find accessories made with precious and semi-precious stones, made in authentic style. If you are planning to spend a large amount of money in jewelry, choose shops that provide warranty. Very close to Johari Bazar, you can find Bapu Bazaar, which is famous for handlooms, local textiles and accessories.
2. Nai Sarak
This is another market located in Jodhpur, which is famous for its colors and varieties. The local textile of Rajasthan and Gujarat is called as Bandhani. Bandhani is a signature styled material with colorful prints and high quality. This textile showcases the artistic value of the locals. The best place to buy high quality Bandhani is Nai Sarak. Apart from textile, you can find suites, leather goods, accessories and much more.
3. Bada Bazaar
This market is located in Udaipur. As the name indicates, this market is very large. You can find almost everything in this region and at a cheap rate. You can also find authentic restaurant to taste the food of the locals. Starting from antiques to fashion clothing, you can find almost everything here. This is the best place to buy leather goods, traditional artifacts, jewelry and much more.
4. Clock Tower Market
This Clock Tower Market is an important tourist destination of Jodhpur. This market is also included in many itineraries of Maharaja Express luxury train that run through Rajasthan. This market is also called as spice market as you can find almost all kinds of local fresh and dried spices. Not just spices. You can find spice infused articles like incense, tea, beverages and much more. You can also find a few shops that sell handicrafts, clothing, antiques and much more. Bargaining is very essential here. This is also the best place to enjoy street food, if you are visiting in the evening.
5. Hathi Pol Bazaar
This market is also called as the art market. This market is for those who love to surf through intricate art works and buy the ones that inspires you. This market is famous for authentic Rajasthani miniature painting. You can also find other artwork based articles from handicraft items to home decor. The goods are quite reasonable in this market.
This list does not include all cities of Rajasthan and not all the important markets present in the above-mentioned cities are included in the list. This is just an introduction to the styles of market that you would be enjoying in Rajasthan. If you visit Jaisalmer, do not forget to buy camel leather articles, silver articles, wooden articles, shawls and much more.
If you are visiting a historic place like Bikaner, you ought to buy leather articles, clothing, knives, kundan jewelry and much more. If you are choosing a temple town like Pushkar, the market will be filled with puppets, deity idols, embroidery clothing, camel leather articles, statues and much more. Even if you are not interested in shopping, visit these markets for a colorful time and, these markets are the best place to take some local photography.