Get Amazing Dubai Tour Packages With Roaming Routes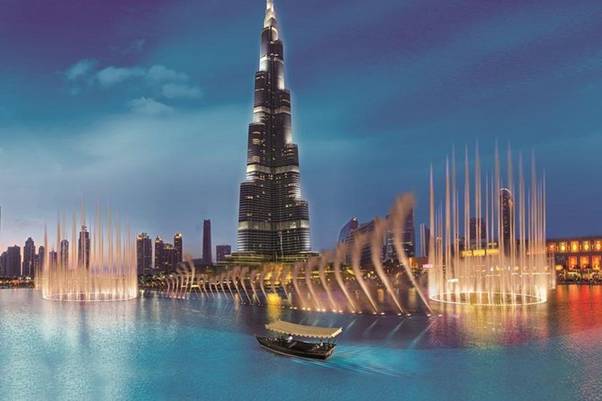 Plan out an awe-inspiring international tour to the most fascinating city of the world. Dubai is a perfect destination for everyone, who wishes to plan their honeymoon, or family outing or even with their friends. Dubai Tour Packages offer 'everything for everyone.' Visit the most adventurous places in Dubai, indulge in thrilling rides on Dubai Desert Safari, Camel Ride, or Ride in the fastest escalator of the world in Burj Khalifa. The place is so dynamic and a major tourism hotspot.
According to 'The Hindu'- Business Line over 2 million Indians visited Dubai in 2018 which emerged as the highest number of International visitors overnight. So plan out your 2020 in Dubai and book your Dubai Tour Packages with Roaming Routes.
Roaming Routes is the best Travel Agency offering Dubai Tour at very budget-oriented prices of just INR 45,000 per person for 4 days/ 3 nights trip with customized services. Visit Roaming Routes now.
Day-wise Itinerary (4 days/ 3 Nights)
Day 1: Dubai Desert Safari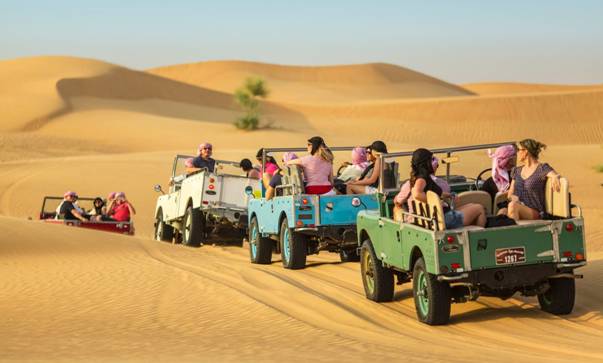 Welcome to the most sizzling hotspot of the world, Dubai. Arrive at Dubai International Airport, Representatives of Roaming Routes will pick and drop you to your pre-booked Luxury Resort. Complete your all check-in formalities and lay down on the soft mattress of your well-furnished spacious room. After a while, get yourself ready for the amazing trip to the first destination of Dubai Tour Packages. You will be received by a professional driver in 4*4 Luxury Land Cruiser and dropped to the first Dubai Tourists Place. Dubai Desert Safari will be the point where you will confront many fantastic rides, and a lot more. Start off with the adventurous Desert Safari, continued your pleasure by jumping on to the Camel Hump for the next Ride-on Dubai Arabian Desert.
In the evening, pamper yourself and get surrounded by very elegant belly dancers and have a lavish dinner with types of traditional drinkables available at the Desert. Get naughty in the first day of your Dubai Tour and return to your luxury Resort.
Day 2: Exciting Dubai City Tour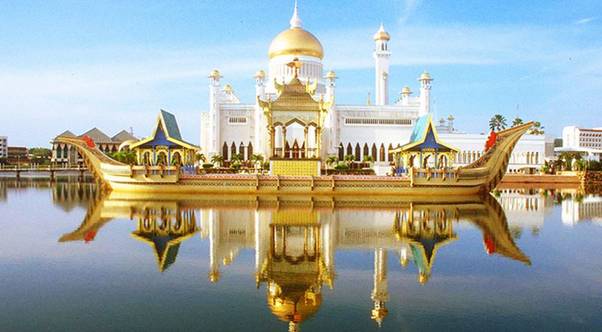 Wake up! Grab a tasty breakfast in your luxury resort. This is the second day of your Dubai Tour Packages. Start your day by getting excited for the day fun while going on a Dubai City Tour. Representatives of Roaming Routes will pick you and take you to the most amazing and exciting various Dubai Tourists Places.
Places you will visit during the Dubai City Tour are:
Dubai Jumeirah Beach
Bur Dubai and Gold Souk
Dubai Jumeirah Mosque
Dubai Museum
Palm Island
Sheikh Zyadad Road (explore Dubai Shopping Markets & view unique skyscrapers)
After the luxury Dubai City Tour, the dusk will unwind your tiredness with some exciting surprise. You will be taken to Dubai Creek for a romantic Dubai Dhow Cruise ride where you will enjoy lavish international dine while witnessing the live musical shows on the Dubai Creek. Return to your luxury Resort.
Day 3: A Leisure Day in Dubai Tour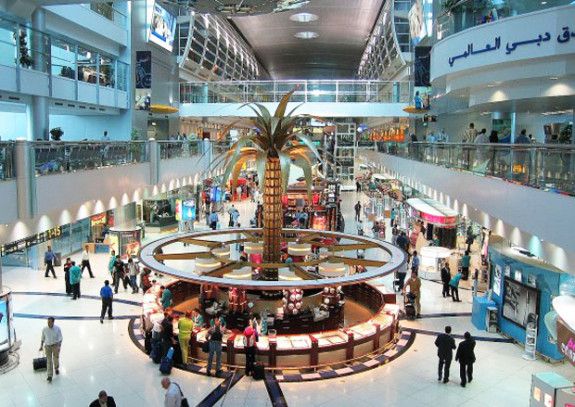 Wake up! Enjoy refreshing breakfast in your luxury resort. This is the third day of your Dubai Tour Packages. The day is wholly free for you. Either take rest in your well-equipped room or enjoy the resort facilities such as give some time to yourself while indulging in a workout at the gym or swimming pool or even pamper yourself at Spa Center.
You can also explore the city at visiting the largest Dubai Mall for having the best shopping experience or even you can hang out in Dubai by exploring various Bazaar such as Meen Bazaars. Dubai Tour is all about Eat, Enjoy, and Explore. Return to your luxury Resort.
Day 4: Bye to Dubai Tour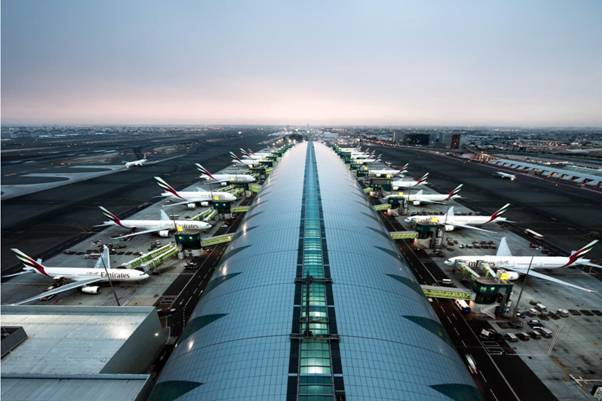 Wake up! Grab an appetizing diet in your luxury resort. This is the 4th day of your Dubai Tour Packages and day to depart. Get your bags ready and collect all the memories of days you have spent in your beautiful Dubai Tour. Representatives of Roaming Routes will receive you for the Dubai Internation Airport. Board a flight way back home and say bye to Dubai Tour.
To know more about the Dubai Tour Packages, check-out the details below:
Dubai Tour Packages by Roaming Routes: Hotel Details
Roaming Routes understands every minute detail of the needs and requirements of an International trip. The agency facilitates luxurious well-equipped hotels on their Dubai Tour. As everyone dreams of coming out with the luxury accommodation facilities in their outings. With the same thought, Roaming Routes offers the best-staying facilities to its guests.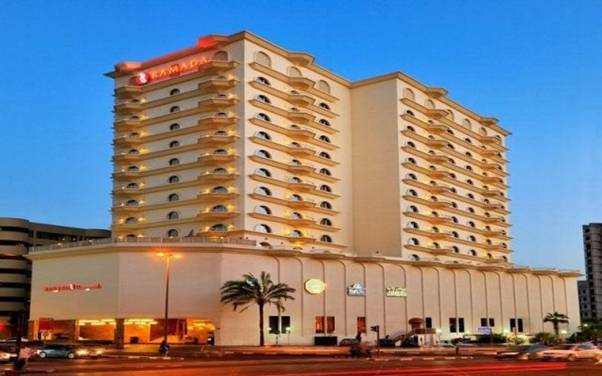 Ramada Hotel is the best 4-star hotel located in Bur Dubai with a nominal distance of around 6 km from Dubai Airport. The hotel offers 176 luxury rooms with all the essential amenities to its guests, along with the additional comforts of Swimming Pool, Gym, and Spa Center.
Dubai Tour Packages: Inclusions
Roaming Routes is the best travel agency that takes care of every requirement of its guests in the Dubai Tour Packages. The best Dubai Tour Packages from India includes:
4 day and 3-night halt with an appetizing morning diet
Dubai Desert Safari in 4*4 Toyota Land Cruiser (with BBQ dinner)
Dubai Fountain Show, Dubai Burj Khalifa
Dubai Panoramic City Drive
Dhow Cruise at Dubai Creek (with dinner)
Dubai Visa along with boarding charges
On-return Airfare: Economy Class
Roaming Routes- The Best Travel Agency For Dubai Tour Packages
Roaming Routes is the best travel Agency for Dubai Tour Package. The agency puts its complete efforts to make the Dubai Tour most luxury for its guests. The agency provides all types of comfort, pleasure, and safety during the Dubai Tours.
Roaming Routes the best Agency, as they include in their package:
Convenient and Hussle-Free Trip
No Hidden Charges
Attentive and Friendly Services
Professional Guides during Dubai Tour
Budget-Centric Planning
Best Customer Services served over 10,000+ happy customers
Monetary security
Customization Available as per requirements
If you are still planning your next holidays, then this article is for you. The most amazing Dubai Trip will unwind all boringness into the exciting happiness while exploring the hotspot of the world. Don't worry about the safety or day schedules of the trip. Roaming Routes will plan your Dubai Trip in a most captivating way with all necessary requirements. So pack your bags and get ready to book the luxury Dubai Tour Packages with Roaming Routes.

Tags: Dubai Tour, Dubai Tour Packages, Luxury Resort, Roaming Routes