When you are in London and with so many options available for lunch and dinner, making a smart choice can be an arduous task. One option you have is the leading fast food franchises such as Subway or McDonalds. However, if you are looking to enjoy the best food along with a great ambience then here is the list of top 7 restaurants in London you should visit.
Beigel Bake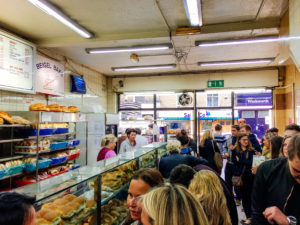 This is one of the popular restaurants in East London and it can be defined as free standing café, a takeaway café or just a bakery from where you get to enjoy some of the bagels, sandwiches, and hot cakes. It is a frequently visited spot by the regular partygoers. It is the price element that makes this place popular in London, you can have sweet pastries for £1 and smoke salmon will cost you £14.
Nearest night tube station is Liverpool Street Station, so reaching here will not be an issue. Other popular eateries of Beigel Bake are – pickled gherkin, hot salt beef, apple strudel, cheesecake, chopped herring, Danish rolls, mustard beigel, and smoked salmon (Cream Cheese Version). So, whenever you are hungry, you can drop in at this restaurant as it is open 24 hours.
Sushisamba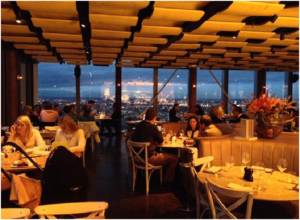 Being on the 38th floor, Sushisamba is one of the most eye-catching elevated restaurants in London. The prices are on a higher side, but trust me the food and the view it offers of the gorgeous London city makes up for it. Lights are being used creatively and it certainly compliments the interior designs. The dining tables are being made using laser cut technique and it was incorporated to have an elaborated design.
Sushisamba offers a rich amalgamation of both Latino and Japanese cuisines for its visitors including – Shrimp Tempura, Spicy Mayo, Aji Amarillo, Morado, multi-coloured sushi rolls, chocolate banana shake with egg yolk and gold shavings. So, whether you are looking to celebrate Christmas, anniversary, birthday, or it is just a routine get together, this place never fails to impress.
Rok Smokehouse And Bar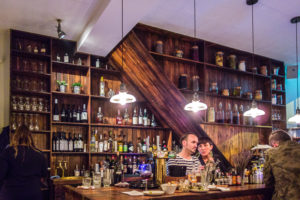 If you want to take your beloved on a romantic date, then this Scandinavian restaurant can be a perfect choice. The restaurant has small tables and mostly just for two, but it certainly adds on to the overall beauty of the restaurant. The food, including flavoured meat cures, jams, and pickles are worth trying. At £3.50, duck pate with knackebrod and blackcurrant jam is simply awesome. You can also choose from a huge variety of meat dishes, at £20 beef with birch syrup should not be missed.
Their salads are also quite popular, make sure you have tasted burned sweet potato with horseradish creme fraiche (it will cost you £4), cauliflower cheese with beef dust & almonds (it will cost you £5), charred broccoli with pumpkin seeds, sesame seeds, toasted almonds and quinoa are worth trying. You can also try light snacks, beers and cocktails (changes regularly), and special bar snack menu is also served exclusively.
Bao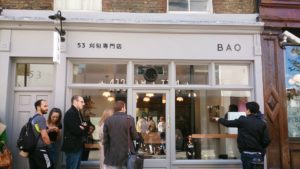 If you want to visit a restaurant that truly lives up to its expectations and even surpasses, then you cannot miss Bao. This is a small restaurant in Soho serving just five gua bao, you also get to enjoy a dessert option, and best of Taiwanese street food. The best seller is The Classic filled with moreish shreds of pork, coriander, with a dash of crushed nuts. If you like pork, then Pork Confit Bao is a must-try.
You just can't ignore various other non-bun dishes. The beef soup is often ordered here and you should try it too when you are here. Are you thinking is there any chicken item at Bao? Yes, there is – Big chunks of fried chicken having light batter on it and sporadic hints of both ginger and malt. Meaty nuggets are also yummy. It has a simple and wooden interior but it surely compliments the black chairs.
Hoppers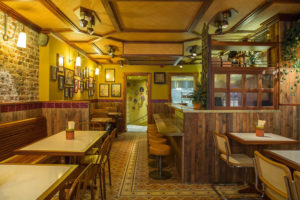 This restaurant has dishes inspired from both Tamil Nadu and Sri Lanka. This is yet another venture of Sethis (other ones are Trishna and Gymkhana with Michelin Stars). The restaurant is famous for its long waiting hours but the pay-off is amazingly well prepared Sri Lankan and Tamil food. The moment you enter the restaurant; you instantly get an eastern feel.
The restaurant is known for its lip-smacking food, some of the popular cuisines here are – Ceylonese spit chicken with pennywort delight and a coconut roti. Watapallam tastes like coconut crème brulee. If you are not able to get anything from the menu, the smiley staff will help you out in knowing it and also in ordering. Make sure you try Sri Lankan Lion Lager, and you can also choose from arrack and cocktails.
Som Saa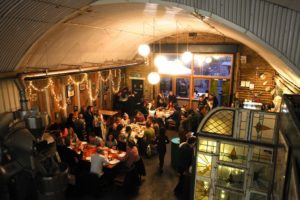 It is a famous Thai restaurant in Eastern London. The award-winning interior has a vintage and rustic feel to it. It also comprises of various layers and it is split between the dining room and a bar, the dining area has a moody and cool feel and the bar has a bright and airy feel to it. Coming to the important part i.e. food, Thai food is always known to be balanced – salty, spicy, sour, and sweet. The soups are rich in protein and the salads are punchy.
The jungle curry with fish and baby aubergines is quite popular here, along with sticky rice with coconut cream and poached jackfruit. If you possess supernatural powers to bottle the monsoon season, then it would surely taste like Muay Thai Kick (a popular drink).
The Barbary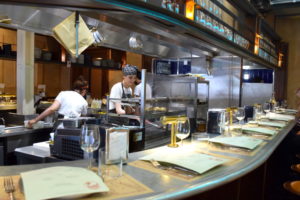 This restaurant is a brother (DJ Layo Paskin) and sister (Zoe) venture. Inside The Barbary, you will find the décor having the theme of heritage and the design revolves around the concept of courtyard and fire. The restaurant has only 24-counter seats and no bookings are accepted. The menu is short and it is divided into – Land (Meat), earth (Vegetarian), and sea (Fish).
The grilled swordfish is served with capers, vine tomatoes, and roast garlic. Make sure you have tried Persian goat stew. The restaurant also offers a wide variety of desserts and one of the favourites is Beirut Nights.
Read also:
Adam Smith is a content writing professional at
alwaysreview
, an inbound marketing and sales platform that helps companies attract visitors, convert leads, and close customers. Previously, Adam worked as a marketing manager for a tech software startup. He graduated with honors from California University with a dual degree in Business Administration and Creative Writing.
Follow Me @
Google+