The Middle East is a truly remarkable part of the world, a real region of great contrasts. From the wilderness of the desert to the quiet nature and cultural traditions of the villages right through to the glittering luxury of Dubai's skyscrapers, the Middle East truly does have it all.
With such a wide range of different places available for you to visit within the region, it comes as no surprise that planning a trip to the Middle East can be quite a task. So whether you are planning a short city break or a lengthy tour of the region's attractions, it is undeniable that you will be spoiled for choice when it comes to places to visit and things to see and do.
What Needs to be Taken into Consideration?
If you are planning a trip or thinking about heading to the region on your next getaway, there are a number of important things that you should always bear in mind.
First and foremost is your safety and security. Certain parts of the region can be quite volatile and unpredictable thanks to the ongoing conflict affecting particular areas. Therefore, for that reason, it is important to be fully aware of any safety alerts of threats within the countries and areas that you are planning to – being prepared and ensuring you are fully clued up is a must. For more information about where you should and should not travel to in the Middle East, it's worth checking out the government's travel advice for UK nationals.
However, with that in mind, there are still plenty of areas within the region that are great for tourists and travellers to visit. As long as you do your research and remain careful about where you go, there is no reason why the Middle East should be a region that you avoid.
Soaring Temperatures
Another point worth mentioning is the temperature. For much of the year, temperatures within the region are soaring, causing locals and visitors alike to seek shade and attempt to stay out of the sun's sizzling heat. For those in search of a visit in cooler climes, many people opt to visit countries within the area during the winter months. November to March is the usual peak season, the time when most people choose to plan their trips to the Middle East. Temperatures during this time tend to be balmy rather than roasting, making for a much more comfortable experience.
However, as this time of year is the peak season, popular destinations, resorts and tourist attractions all have a tendency to become overrun with holidaymakers. Trying to make your way through the crowds in the heat does not make for a fun holiday experience, which is why it may be worth exploring other options when it comes to identifying the best time of year to visit.
Avoiding the peak season and the unbearable summer temperatures really only gives you two alternative options – spring or autumn. This means that you could well end up choosing to take your trip during the month of Ramadan. The exact dates of the religious month of Ramadan vary each year as the month is dictated by the lunar calendar, but in 2017, Ramadan falls between May 26th and June 24th. The Middle East is a predominantly Muslim region, so if you are intending to visit during Ramadan, it is essential to keep the dates in mind and be especially mindful of the local culture, religion and traditions in the specific country you are planning to visit.
Ramadan Traditions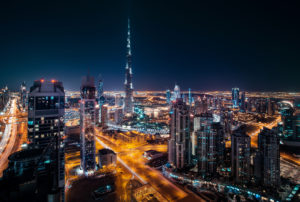 During Ramadan, most Muslims increase their charity giving, working to become more generous and selfless. They will partake in additional worship and personal reflection, as well as observing a fast during daylight hours, something which is particularly important for visitors to note. However, the holy month means that there are plenty of religious events, cultural festivals and other special occasions planned during this time. Tourists will be able to observe many of the events and festivals, sharing in what is one of the most special and significant periods in the Islamic calendar.
If your upcoming trip does happen to fall during Ramadan, there are a number of things which you should bear in mind to ensure your travels go as smoothly as possible.
Tips for Travellers
The first, and arguably most important, point to remember concerns the daylight fast. Although tourists and people from other faiths aren't expected to complete the fast, eating and drinking in public places during daylight hours is strictly forbidden. The majority of restaurants, cafes and eateries will close during the day, but if you need to pick up something to eat, some supermarkets usually remain open. However, you will be able to consume food and drink in private, away from other people. Some busy areas will set up special tents designated for this, where you can go to eat or drink out of sight of those observing the fast. Another important point to remember is that the ban on eating in public also applies to chewing gum and cigarettes – things which you might not necessarily think would apply.
You should also note that some attractions like entertainment venues and cinemas may have reduced opening hours during Ramadan. Almost all clubs will close – which serves as a reminder that drinking alcohol in public is strictly forbidden in certain Middle Eastern countries, including Dubai.
However, during Ramadan, it is after sunset when the region really comes to life. Once the sun sets, Muslims will attend evening prayer before gathering together with their families to break the fast. Throughout the region, restaurants, markets and street-food vendors spring to life, offering a wide range of delicious food to locals and visitors alike.
If you are planning to travel to the Middle East during Ramadan this year, the most important thing is to remember to always be respectful. Observe local traditions, take note of any customs, and ensure you do all that you can to be a polite and courteous traveller whilst in the region.
The Middle East is crammed full of real delights and wonders, so for the ultimate varied travel experience, make your next getaway a trip to the Middle East.
Safikul Islam is a professional Software Engineer with vast experience in research and development field. Presently, He Works for TravelForU. He also has a strong passion for writing creative blogs and articles about travel,fashion, new technology,Jewelry and following the latest trends in these areas.